Sermon: "Foraging Hope"
Date: March 31, 2019
Scriptures: Luke 15:1-2, 11-32 (lectionary)
Preacher: Rev. Robert Dean
Now all the tax collectors and sinners were coming near to listen to him. And the Pharisees and the scribes were grumbling and saying, "This fellow welcomes sinners and eats with them…"

Then Jesus said, "There was a man who had two sons. The younger of them said to his father, 'Father, give me the share of the property that will belong to me.' So he divided his property between them. A few days later the younger son gathered all he had and traveled to a distant country, and there he squandered his property in dissolute living. When he had spent everything, a severe famine took place throughout that country, and he began to be in need. So he went and hired himself out to one of the citizens of that country, who sent him to his fields to feed the pigs. He would gladly have filled himself with the pods that the pigs were eating; and no one gave him anything. But when he came to himself he said, 'How many of my father's hired hands have bread enough and to spare, but here I am dying of hunger! I will get up and go to my father, and I will say to him, "Father, I have sinned against heaven and before you; I am no longer worthy to be called your son; treat me like one of your hired hands."' So he set off and went to his father. But while he was still far off, his father saw him and was filled with compassion; he ran and put his arms around him and kissed him. Then the son said to him, 'Father, I have sinned against heaven and before you; I am no longer worthy to be called your son.'But the father said to his slaves, 'Quickly, bring out a robe—the best one—and put it on him; put a ring on his finger and sandals on his feet. And get the fatted calf and kill it, and let us eat and celebrate; for this son of mine was dead and is alive again; he was lost and is found!' And they began to celebrate

"Now his elder son was in the field; and when he came and approached the house, he heard music and dancing. He called one of the slaves and asked what was going on. He replied, 'Your brother has come, and your father has killed the fatted calf, because he has got him back safe and sound.' Then he became angry and refused to go in. His father came out and began to plead with him. But he answered his father, 'Listen! For all these years I have been working like a slave for you, and I have never disobeyed your command; yet you have never given me even a young goat so that I might celebrate with my friends. But when this son of yours came back, who has devoured your property with prostitutes, you killed the fatted calf for him!' Then the father said to him, 'Son, you are always with me, and all that is mine is yours. But we had to celebrate and rejoice, because this brother of yours was dead and has come to life; he was lost and has been found.'"

Luke 15:1-2, 11-32, NRSV
We're in the midst of the season of Lent. This is a season of contrition, soul searching, and personal discipleship. As we have gathered in church during this season we have focused on looking at our approach to this season as being like a journey into the wilderness. Today we come across one of the more famous parables in Jesus' teachings. What could this story have to do with a journey into the wilderness? How can it inform our journey? Well, let us look at these words to find a way into both the text and the season. Before we begin, let us pray:
Life-giving God, You are Parent to all of us. We come to today's scriptures and find Jesus telling a story about a father. As our Parent, these words can teach us about You. Open our eyes and our hearts to Your wise Spirit as we approach these texts. We ask these things in Jesus' name. Amen.
Friends, this is a season of contrition and redemption. We come across a story today of Jesus spending time with the least of the least. Jesus, a Jewish Rabbi, is spending his time with tax collectors and sinners. The tax collectors worked for the oppressors of the Jewish people. The sinners were the people who did not obey the laws and teachings of the religious leaders.
We find Jesus being grumbled about by the Pharisees and the scribes–the people who taught the religious laws and the people who copied the texts. The people grumbling were the people who should have known God as well as anyone could know God. When Jesus reaches Jerusalem, this is the group of folks who will spearhead the events of Good Friday.
Here in the season of Lent we find ourselves facing Jesus' worst critics. We found ourselves in a strange place because Jesus responds to their criticism with a parable containing three perspectives. There is a selfish son who finds redemption, a loving father who is forgiving, and an elder brother who seemingly will not forgive and accept his brother home.
It begs a question: Who are we supposed to be paying attention to in the story? This parable, known as the parable of the prodigal son is further complicated by the evolution of the word prodigal over time. Prodigal once meant abundantly generous but has shifted since the phrase "prodigal son" was written into the title of the parable to mean either wasteful or errantly wandering.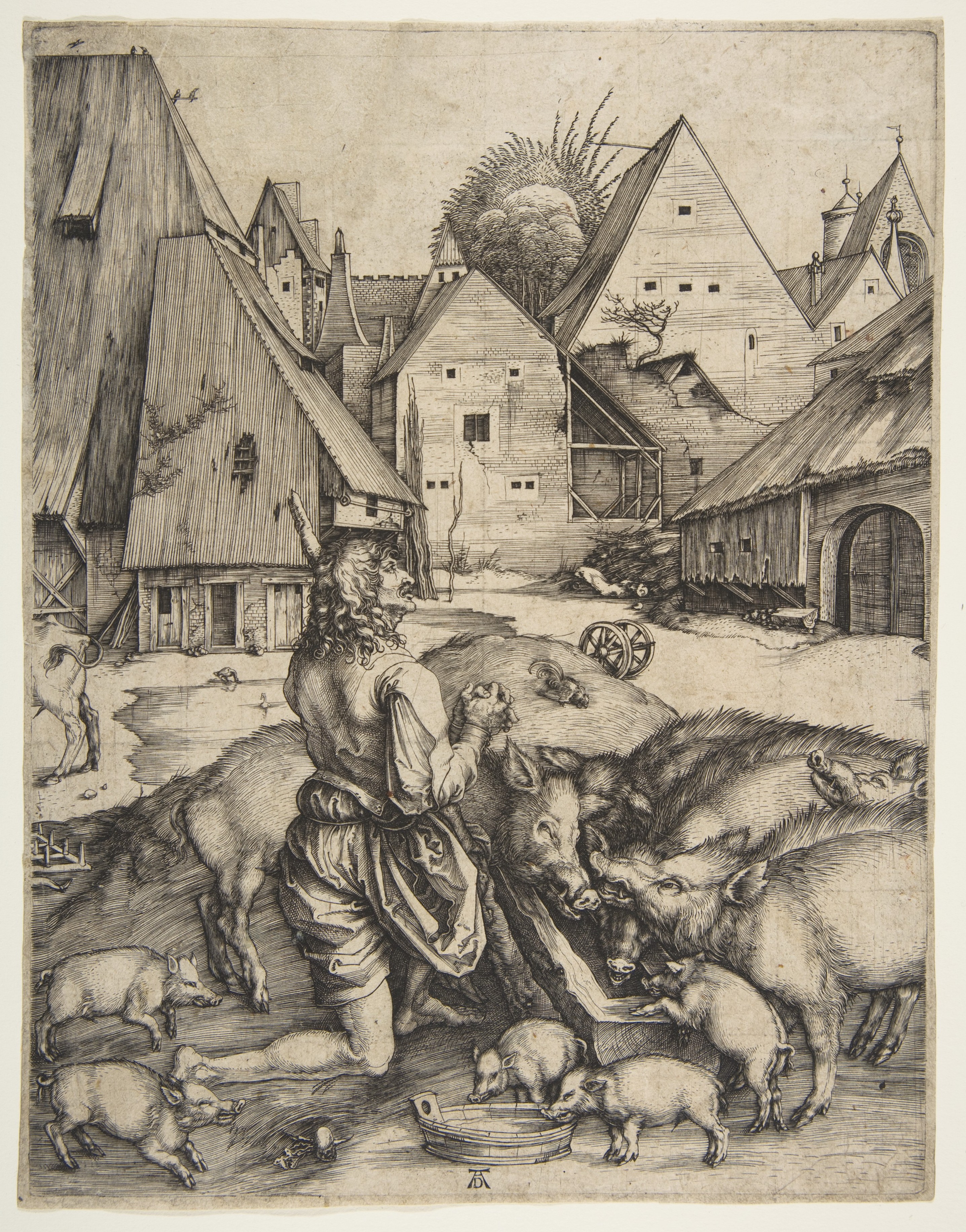 We could focus our attention on the younger son. His story is a story of redemption which fits well into the Lenten narrative. He has gone off into the world, made mistakes, and comes home with contrition and humility. This message is a good message for those of us who have been wandering the wilds of our lives in need of redemption.
We could focus our attention on the father. He waits at the road, sees his son coming from far off, and runs to meet him. He is a loving and forgiving father. He celebrates the return of his son. Surely, as Christians we should see this as teaching about the way God meets us on the road. Perhaps we even see the story of the two disciples walking to Emmaus on Easter Sunday in grief, only to be met by the resurrected Christ who breaks bread with them. Surely, this would be a great message.
Either of those would be wonderful messages. I would ask a question with you: should we not stop to ask why this passage points out those grumbling religious leaders? Why are they here if the parable has such an obvious application?
Did you ever stop to wonder why the elder son was upset? The text stops to mention he has never even been given a goat to celebrate with his friends, but have you ever stopped to think about his frustration? The father has given his brother his share of the inheritance and it has been squandered. The father has reason to be mad. The brother has wound up in one of the lowest of the low places for a good Jewish boy–longing to eat the food of something shunned by his people. His brother has lost everything including his self-respect. What is making this elder brother upset?
We could say something to the effect of "being welcomed home means he will now receive another portion of the inheritance." That might be true. We could also say the elder son is offended on behalf of his father. That also might be true. Both are reasonable responses and if that is what you wish to take away, please do so with my blessing.
I wonder if the issue is one of a scarcity mindset. If we are on a journey through life, I think we can all say we have had days when it feels as if we have barely made it through. I have had difficult days when it felt like I only made it to bed crawling on my knees. In fact, there have been days when I have only made it to bed that way when my back went out or was sick.
There are days when we go through the wilderness of life and finding it a bleak place. We look for figs on fig trees like the gardener in last week's sermon but there is no fruit. We look for fish in the streams and we find nothing. We look for sustenance and it feels like we barely make it through.
Then we see them in the distance. The other people. We have scraped and saved while they have spent money, more money, and more money. We have fought to keep our family together and they party it up. We have tried to raise our children, have a few close friends, and maybe have enough to go get goat curry with our spouse every now and again when they come waltzing through the wilderness.
We see them in the distance and there may be part of us that jumps to judgment. We see them in the distance and we may wish to lash out. What are they doing here? Who do they think they are coming here? This is my house, this is my community, this is my church… We see them in the distance and it may tempt us to rush to grumble.
The Pharisees and scribes are often set up in Christian stories as terrible people, but let me ask you: should we always identify with the prodigal son? Yes, we may sit here as a forgiven people, but should we always connect with that part of the story? Should we identify with the forgiving father who forgives? Perhaps, sometimes we should. Is it possible we are being asked to connect with the elder son?
A little authorship note for those of you who may find meaning in this fact. Luke and Acts are often considered to have been written by the same author. If they were written about the same time, we have learned something important. The scribes and Pharisees are a part of a Jewish people. The Jewish people who came to faith in Christ became one part of a multicultural faith that had begun to spread over the world. Acts records the apostles heading out into the world and they do that quickly. Some people note that apostles reach out to the ends of Asia, throughout Africa, and out into Europe. The entire eastern hemisphere is beginning to hear about Jesus.
We look at the scribes and Pharisees and we see bullies, but by the time this book is written… Scholarship tells us Jerusalem has been destroyed by the Romans, the Pharisees and scribes are effectively homeless, and the Jewish faith is going through a massive re-envisioning. What if they are not the bullies? What if they are not the only ones who do not understand?
The thing about the elder brother we rarely notice is that he has his own story. He sees his brother go, he sees his brother come, and he is upset. Has he ever known deprivation? Chances are he has never had to suffer intensely. You only have a fatted calf if you can afford to have a fatted calf. He and his father are not living in a place of famine like the land where his younger brother travels. The younger son has been humiliated but when he shows up, there are extra robes and rings just waiting for him. If you can afford to have such luxuries lying around in an agrarian or farming culture, you are not in want.
The older brother is furious, is standing outside the circle of blessing, and is grumbling in the fields. All that the father has is his elder son's, but the story ends with the father pleading for his son to come home to celebrate. The scribes and Pharisees may grumble in this moment, may celebrate as Jesus suffers, but by the time this book is written… They must find their own way.
A few years ago a movie came out called "The Passion of the Christ" and one of the great fears is that it would stoke anti-Semitism. It was a powerful portrayal of the crucifixion story which took liberties, but one reality is that texts like the statements before this parable have been used for anti-Semitic purposes. People see it and say "Look! They're grumbling! They must hate Jesus."
I think we miss something here. The elder son has his own story to live out. By the time this book is written, there are likely sections of the church who look at the Jewish people with all the scorn they see in the actions of the scribes and Pharisees: "They had a chance! They could have done better! What a bunch of fools! First, they kicked us out of synagogues, sent out people to arrest us, and now their temple is gone and now they're the ones who have no place to go."
The thing is that throughout Christian history, we have often forgotten that the gospels were recorded not just as histories and not just as teachings, but as living stories. We miss warnings in plain sight. Hebrews 4:12 (NRSV) says "Indeed, the word of God is living and active, sharper than any two-edged sword, piercing until it divides soul from spirit, joints from marrow; it is able to judge the thoughts and intentions of the heart."
By the time these stories were collected, the Christian people are the ones who have begun to have their own communities and belief. By the time the church gathered to formalize some of their theology in 325 at Nicea, the Jewish people have been without their temple for nearly 180 years. By today, it has been almost 1,950 years since the temple fell. If we look at this text and we find a reason to justify anti-Semitism, we have failed to learn the same lesson offered to the elder son. We have failed to understand love, compassion, and grace.
The challenging thing is that the faith is still growing. United Methodists, some of our struggles come out of the fact that our faith is growing in places with different cultures with different values. Do we stand there grumbling in the fields? I know it is more complicated than that generalization, but we still should ask ourselves if we are standing in the fields.
Friends in the UCC, your denomination has been battling for inclusion and openly aiming to welcome LGBTQIA+ folks to the table. You are battling racism and seeking equality and justice. What of the conservative voices and people who do not understand what you are talking about? Do we stand in the field when they come home to God both dazed and confused? As the culture shifts around, are there times when you realize the doors have not been as open as they should be or the welcome not as exuberant?
Progressive Methodists, we should ask the questions I pose to the UCC folks. Conservative UCC friends, we should ask how we stay in ministry with those of a radically different culture or mindset from your own. Not a single one of these questions is not a question I do not ask myself.
It has been nearly 2,000 years of life for the Christian Church. We have had rough moments but there has always been food out there in the wilderness. We may not have always received the goat to celebrate with our friends, but our faith, our community, and our kin-dom has survived through thick and thin. We are a people who have been blessed for generation upon generation. Can we throw open the doors to the next generation? Can we be so bold as to see each other in the wilderness and have faith that there is enough hope out here for us all? Let us pray…